To begin, I actually had the most
insanely
fun time at our homecoming game on Friday. Rather than actually watch the game, I helped sell hot cider and popcorn to raise money for our theater club. We doled out drinks for a dollar each from portable burners and sang at the top of our lungs to any customers and admirers who would listen (mostly Beatles tunes and perfectly harmonized renditions of "Happy Birthday"). After the game, a bunch of friends and I piled into various cars and went for chocolate chip pancakes and milkshakes at the local diner. In short, it was a perfect night.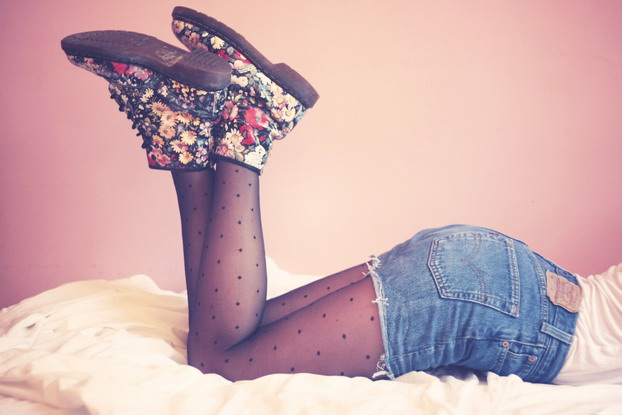 The second I saw this photo of
Alix
, I think I literally squealed out loud. We share a love for vintage floral combat boots! Magnificent.
I am so excited to see
Coco Avant Chanel
. Does it seem to anyone else that Audrey Tatou appears in every single film that is vaguely related to being French? Well, not that I have a problem with it, considering how adorable and quintessentially
française
she is. These photos are from
a terrific interview on the Elle website
with Catherine Leterrier, the costume designer. Definitely take a few minutes to read it and check out the rest of the pictures!
I first came across
Purple Label
on some blog or another, and after just a few looks at their simple, flattering, and
insanely
reasonably priced pieces, I am positively in love with this brand. All the tanks and shirts drape so beautifully, and the muted color palette is absolutely lovely. My favorite Purple Label piece
by far
is that grey jumpsuit. A casual crop top and slouchy harem pants combined into one versatile and crazily affordable piece = perfect on all counts. I hope to get my hands on it soon.
If you have never picked up a copy of
Details
, please do so immediately. It's more sharply written and chock full of useful lifestyle tips than most (and maybe all) women's magazines, not to mention the fact that there is usually some smoldering celebrity on the cover. The most recent issue I read included a gorgeous spread of camel coats, an article about James McAvoy, and a brief interview with Consuelo Castiglioni about men's fashion. Get yourself a copy, please!
Viktor & Rolf
blew me away
. Oh my goodness. They literally must be psychically tuned into my color preferences because
every single one
of my favorite colors is represented here. My jaw dropped when I saw that fluffy coral dress in the last row. In my book, they definitely made up for a lackluster collection last season, and made up for it about ten times over.
Karl Lagerfeld
actually made me sigh. I love how the collection is centered around shorts and everything still feels like the most classic and ladylike clothes anybody could put on. The silhouettes are absolutely
perfect
, and here are my favorite colors again! This has gotten me so psyched for Chanel.
Some other favorites collections lately:
Fendi
,
Marni
,
Lanvin
, and
Isabel Marant
. I will refrain (at least for now) from posting in detail about these, so suffice it to say that I loved just about every single look in all of them. How has Fashion
Week
Month been treating you all?
On Saturday I discovered the most incredible piece at the thrift store that, the second I held it up in front of me, reminded me instantly of
last season Yohji Yamamoto
. I have started playing around with it and you will definitely see it soon! It's much more dramatic than what I normally wear, but it's such a gorgeous thing. I might even ink black hearts on my legs to really get in the spirit!