I have returned! At last! Seriously, I missed you all. Family vacations are stressful enough, but without internet access? I was going crazy.
The name of the game is...
soft draping, girly ruffles, sweet colors, and punchy accessories.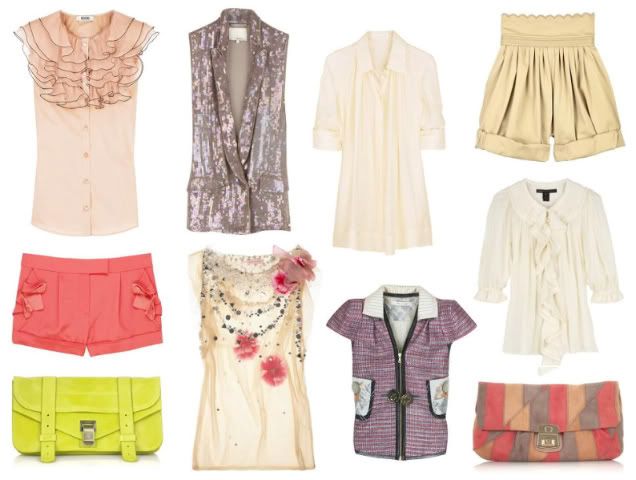 Moschino Cheap & Chic blouse,

3.1 Phillip Lim

tuxedo vest,

Stella McCartney

blouse,

Chloé

shorts,

Marc by Marc Jacobs

blouse,

Marc by Marc Jacobs

clutch,

Marc by Marc Jacobs

jacket,

Matthew Williamson

tank,

Matthew Williamson

shorts,

Proenza Schouler

clutch.

(net-a-porter)
I was helping my mom clean out her closet last week, and once she told me where this shirt was from I fell in love and filched it immediately.
Can you figure out its origin? If not, I'll let you know in my next post.
I've spent the past week listening to nothing but
The Crane Wife
. Colin Meloy is possibly the most brilliant writer ever to grace the world of music.
"Sons & Daughters" is probably my favorite song on the album. The lyrics are just so pretty.
I feel shameful for not yet having listened to
The Hazards of Love
, but I read the
synopsis
of the album last night and it sounds unbelievable. (Yes, it's complicated enough to have a synopsis! What?)
Must purchase as soon as possible! They're playing a show in New York on June 10th and I want to go
so badly
.
I think the weakest factor of my wardrobe is
shoes
; I feel like I'm missing that perfect pair of basic footwear that's versatile and interesting.
These Steve Madden flats are
calling my name
.
I first saw
The Stylish Wanderer
wearing them and I just found them on the Steve Madden website. And they're on sale! And I want them!
These photos from
Yvette Inufio
are so calming. There's something lonely about the pictures, like they're of things somebody left behind. Her subjects are delicate and lovely, and she captures them in the prettiest light. Also, she includes gorgeous quotes with all her photos on flickr.
I'm going thrifting tomorrow or Friday, so I'll have oodles of things to show you by the weekend!
See you lovelies then.